Free your mind with this meditative short doc on lichen and life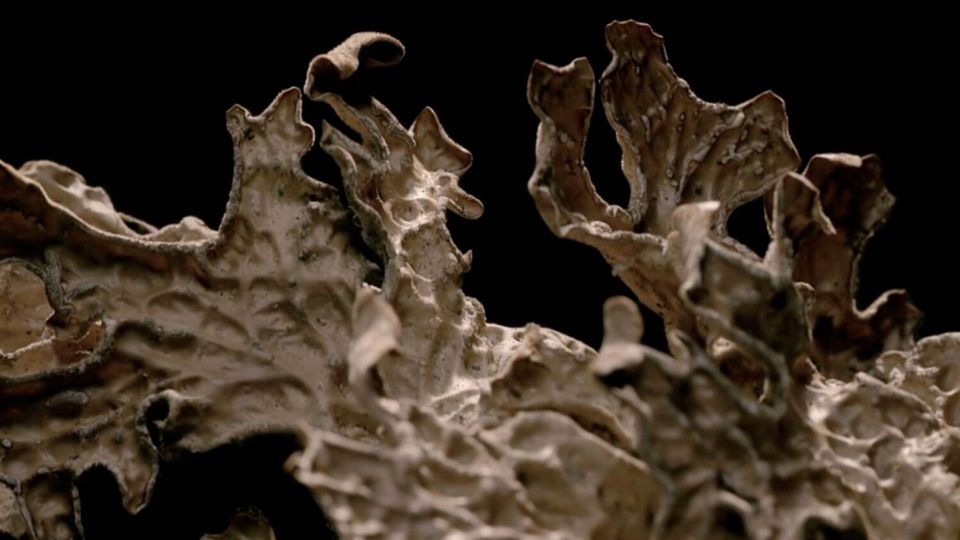 I can't know for certain why, but about four minutes into Lichen, a short documentary by Anishinaabe director Lisa Jackson I felt something I  have not felt in months: calm.
Jackson is best known for her genre and format fluidity working on various VR, musical, animation and film projects. Lichen perhaps represents her foray into the experimental film or standard nature documentary genres as you could make a case for either - or both.
The 11-minute project is shot in 3D macro, its camera washing over various currated and interlocked lichen - composite organisms that arises from algae or cyanobacteria - while lichenologist Trevor Goward explains - through a poetic voiceover - the various biological, philosophical and spiritual factors that underpin their complex biology. Ambient music, a pulsing synth and the intermingling of birdsong and water fill in moments of silence.
The 3D macro has the striking effect of making the lichen - which flourish in a seemingly endless spectrum of colour, shapes, texture and personalities -  pop out of your computer screen. When cast against the stark nothingness of the black background the dreamlike circuit of the film is completed.
As Goward and Jackson help you traverse the lichen it's hard to tell at points if you're still looking at the titular organisms or instead at the vast diversity of environments where they may be found. The pufs and entanglement of lichen blend into what could easily be the canyons, forests, tundras and chasms where they live.
Lichen, as Goward explains, have unique conversations with each environment they find themselves in; all as a means to negotiate what survival will look like in each specific place. The oldest of these arrangements were decided at the end of the last Ice Age and echo through our entire world today, emerging as a starting point - and lesson - for all life.
While I'm sure a lot of the film went over my head I can't help but recommend you give it a go. There is something about the simplicity of the film and the uncomplicated tenacity of its subject that fills you with a pang of much-needed hope.
Lichen is currently available through imagineNATIVE's 2020 festival until 10 AM tomorrow. It's available to Ontario viewers only. You can watch it along with a variety of other films for a $6 Day 2 Pass.