'Down A Dark Stairwell' is an urgent and careful exploration of division and unity.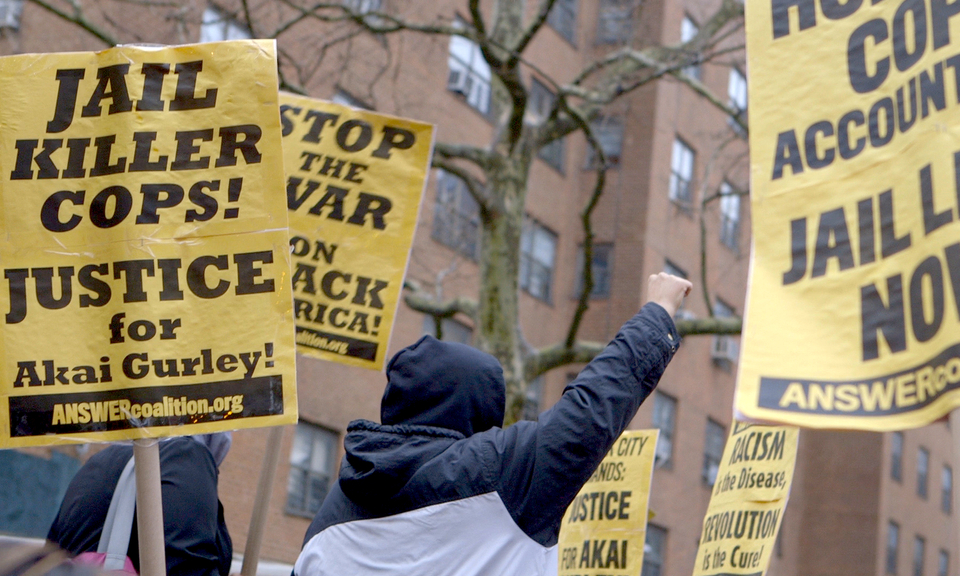 Akai Gurley was a Black man who lived in Brooklyn, New York. He was a father. A peace keeper, and a Brownsville community member who loved to sing.

On November 20, 2014, after entering a pitch dark stairwell in an East New York community housing project he was killed by NYPD officer Peter Liang amid a routine 'vertical patrol' of the building. He was only 28.
The devastating loss of George Floyd, Breonna Taylor, Ahmaud Arbery, and Regis Korchinski-Paquet this summer lingers deep in our minds in the same way the memory of Eric Garner, killed in the summer of that same year 2014, may have preoccupied Gurley's thoughts in the weeks before he would lose his own life to police violence and institutionalized white supremacy.
It's fitting then that Down A Dark Stairwell, a new documentary which probes the aftermath of Gurley's death, was the official opening night selection of the 2020 Toronto Reel Asian International Film Festival last evening. As many seek out necessary conversations in their own communities that address inherent culpability and new ways to stand in solidarity with transformative justice movements, the film - double-billed with a post-screening panel discussion - was an urgent and careful exploration of the intersections and dynamics between Black and Asian communities under systems of white supremacy and state-sanctioned violence.
Directed by New York filmmaker Ursula Liang (no relation to Peter), the film probes the flurry of organizing around Liang's trial. BLM protestors were active in advocating for Liang's conviction while members of the Chinese-Amercain community counter-protested in historic numbers, claiming that Liang was himself a victim: caught in a unfortunate accident and merely a scapegoat for a city looking to cool tensions and protect its white officers guilty of actual crimes.
With a steady hand, and split Black and Asian production team, the film documents the deep fissures the trial placed between contiginets of New York's Black and Asian community organizers: open wounds that still echo today. Rotating between the drawing rooms of both movements and candid conversations with leaders on both sides, the film studies the emotional and and sometimes literal confrontation, as opposed protesters organized across the same city's streets.
The film takes no specific side on the dispute, instead digging into a kernel of truth that hangs over the film's entire run and characters. It's a thematic exploration that has more to do with the hard work of building bridges  - as well as the systems' ability to perpetuate itself through their destruction  - other than the walls brought up by one specific case.

There are always police officers with inadequate training parachuted into communities they do not know or understand. There is always money available for frequent forced patrols of public housing projects deemed 'dangerous'. Yet, there is rarely money to replace lights in those same project's stairwells when they burn out. Meanwhile, time and time again, Black men and women are killed for simply existing in the dark. While 2014 is the subject, Down A Dark Stairwell is an artifact we can study in 2020, a unique window into the current abolitionist organizing and frameworks taking hold around us.
Unlike the majority of films at this year's festival Down A Dark Stairwell is only available to stream until 7 PM today but is completely free. Available as well is last night's post-panel discussion moderated by writer and film curator Nataleah Hunter-Young. On that panel is Director Ursula Liang, artist and activist Syrus Marcus Ware, as well as the film's co-editors and writers J.M. Harper and Michelle Chang.