Jubilee or Pride, 'The Queen' is touching down at Paradise, and is a vital touchpoint for all your June festivities.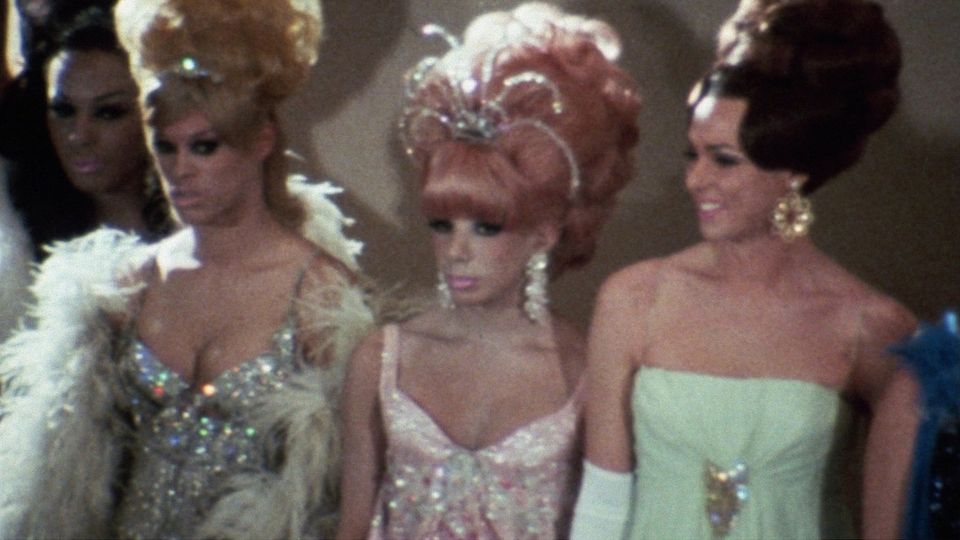 On June 6th, Paradise Theatre screens Frank Simon's documentary The Queen (1968), which captures the behind-the-scenes drama of the Miss All-America Camp Beauty Pagent. Remarkable for when it was made, the film sheds light on the lives and techniques of drag queens from across the United States as they descend on New York for the annual pageant, sharing life stories and wig-styling tips alongside current events like the Vietnam War–when one contestant tries on a feathered dressing gown, another quips that this would be a fabulous time for the draft board to come knocking.

The film provides a peek into the queer community on the cusp of the Stonewall Riots, but also captures a turning point for drag culture, with Black and Lantinx performers increasingly refusing to white-wash their personas for white audiences and approval. Drag is not just about looking pretty. Drag is about belonging.

The first time I saw a drag queen in the flesh was at one of the all-ages dance nights hosted at 5ive nightclub off Yonge called the Homo Hop. As a gay teenager in high school, there weren't many venues I could get into (without fake ID) to be around other queer people. I don't remember much of the queen's performance, but I do remember her back-up dancers pushing through the crowd to make room for her as she approached the stage, deliberately cultivating a diva star aura. As smoking was not yet banned in bars, I came home with clothes reeking of cigarettes. The smell at the time evoked a grown-up world of adventure and possibility.

Walking home along Church Street from a meetup with my first boyfriend (who lived in The Village in a suggestively cylindrical apartment tower) I passed by a queen presumably en route to a gig. It was drizziling slightly, and she shielded her pink sequined gown and Peggy Lee wig under a clear umbrella. In the misty, twilight weather, she positively shimmered. She seemed to me like a beacon, a welcome symbol for newcomers to the community.

I learned later that it was only recently that drag queens (or anyone else wearing clothes not traditionally associated with the gender they were assigned to at birth) could appear dressed as they liked on public streets. In all major cities, police routinely harassed and arrested queer people who dressed unconventionally, using arcane laws against "disguises" as legal justification (hence the importance of the Halloween for the community, a time of year when the rules could be circumvented).

It's why, when we first see the performers in The Queen, they're in their street clothes and only get dressed up in the privacy of hotel or dressing rooms. The first performer we meet in drag is Jack, stage name Flawless Sabrina. Although he's only 24, he described his stage persona as a 110-year-old "bar mitzvah mother" with a sharp, acidic tongue that would make Joan Rivers proud. Although Sabrina is the MC of the pageant, it's clear from the get-go that the real power rests with Joe, the organizer. A diminutive despot with a clipboard, Joe's barked orders at everyone around him are softened only by his camp inflections and witty rejoinders.

When a young performer Richard, stage name Rachel Harlow, misplaces his wig on the day of the pageant and skulks around the hotel expecting others to solve his dilemma, Joe accuses him of acting like a child.

"You're not that little, darling," he quips. "And you've been through worse than this."

The Miss All-America Camp Beauty Pagent is clearly modeled on the Miss America pageant, with contestants repping their regions (Manhattan, Brooklyn and Fire Island each get representation) and showing off their individual talents in formal wear and a swimsuit competition. The competition reinforces a conventional Euro-centric concept of beauty and elegance which fits uneasily even with some of the contestants chosen to compete: One queen with a fuller figure declines to don a bathing suit, entering the stage in a formal gown instead.

This tension reaches a boiling point at the climax when the judges pass over Crystal LaBeija, a Black queen and trans woman who made it to the final three, in favour of crowning the pretty-but-vanilla Harlow the winner. LaBeija storms off and later is filmed backstage partaking in an epic, now legendary read, tearing down both Harlow's makeup and the judges' decision.

Claiming that the organizers had a fix in for Harlow the whole time, LaBeija makes clear that her complaint is with the entire process, not with Harlow personally (even as she's calling her makeup "terrible").

"It's not Harlow's fault," she says. "Because you're beautiful and you're young, you deserve to have the best in life. But you didn't deserve to win!" When a bystander says LaBeija is now showing her true colours, she defiantly retorts: "I have a right to show my colour, darling. I am beautiful and I know I'm beautiful!"
The film, a bit sleepy before, suddenly springs to life. As the viewer you jolt to attention and wonder, Where was Miss Crystal before?! The whole thing should've been about her.

Previously New York's drag balls and pageants, which date back to at least the 19th century and reached the height of their mainstream influence in the 1920s in Harlem, had always showcased performers of different races. But over the course of the 1950s and 1960s, they became dominated by white organizers who favoured the bland, blanched beauty of the Ziegfield Follies and Vegas showgirls. Black and Latinx performers, if they stood any chance, had to lighten their faces and conform to a standardized form of glamour.That was the root of LaBeija's ire - no matter how hard she worked on her look, she'd still lose out to queens like Harlow who could afford to just slap on some lipstick and get away with misplacing their wigs halfway through preparation. Drag was replicating the racist inequalities of the wider world, and expecting queens like Crystal to accept it with a smile.

But change was in the air. On the night of June 28th, 1969, a group of queer people, including drag queens and Black and trans people of colour, refused police arrest and rioted outside the Stonewall Inn in New York City, highkicking the modern queer liberation movement into gear. In the early 1970s, Crystal teamed up with another drag queen to host a ball specifically for Black performers. They called the event "Crystal & Lottie LaBeija present the first annual House of LaBeija Ball" which was the first time the term House was used to connote a group of drag performers and members of the LGBTQ community who would act as a chosen family. It caught on and led to an explosion of other houses (House of Xtravangza, House of Ninja, House of Corey), most led by House Mothers and Fathers.

As shown in Jennie Livingstone's documentary Paris is Burning (1990) house balls feature a myriad of categories so that practically anyone can find something to compete in. Although Crystal doesn't appear in the film, Paris is Burning almost acts as a sequel to The Queen, demonstrating how much has changed in twenty years and in particular Crystal's influence as founder of the House system.It also heavily features 'House Mother' Pepper LaBeija, who made a brief, uncredited appearance as a young person in The Queen.

In the 1990s, Madonna lifted Voguing from Ball culture and made it a mainstream dance craze. Later still, RuPaul Charles took many elements from House competitions, mixed them with the America's Next Top Model format, and launched RuPaul's Drag Race, the still ongoing juggernaut of international franchises, corporate tie-ins and social media feuds. At least the best competitors have a sense of history, as when Aja, a member of the House of LaBeija, performed a note-perfect impression of Crystal for Snatch Game.

As The Queen demonstrates, drag is not for the faint of heart. As writer George Heymont once said, "Any queen can tell you, beneath all those layers of cosmetic beauty lies the kind of true grit John Wayne never knew." Personally, it took me years to screw up the courage to try it myself, albeit in a purely amateur capacity, performing for friends at the Balls my partner and I host and at my office during one instantly-legendary Pride party.

Child, let me tell you - it's not just the weeks of practicing contouring your face and dancing in heels. You've got to dig deep within yourself to tap into the big personality and confidence that the power title "queen" requires. Now that I've come full circle, and becoming an LGBTQ2S+ community elder myself is not too distant on the horizon, I hope in my own small way I inspire others to add ferocity and fabulosity to their everyday lives.  

I cherish the final ten minutes of The Queen as a reminder of drag's grittier, tough-as-nails purpose, and also as a prime example of 'good trouble'. Crystal LaBeija calls out the racist system as stacked against her in order to change it, or, in this case, tear it down and start again. To change the world sometimes you've got to ruffle some feather boas.
---
Max Mosher is a writer and communications specialist. He is a Senior Staff Writer and Old Hollywood Correspondent for The Town. You can follow him on Instagram.